Inflation & Bid Prices
Geoff Canham, Editor
Around this time last year people were expressing fears about de-escalation. How times change! National inflation (as indicated by the Producer Price Index) is now starting to rise, driven by rising food prices and energy prices.
Unusual weather conditions (such as the floods in Australia and Canada, and the droughts in Russia) is one factor affecting food prices, and although food production remains historically high it is not keeping up with demand. The IMF says that 44 million people have been pushed into poverty since last June, and warned that food price rises are increasing economic imbalances. As a sign of that, higher food prices have been linked to the recent demonstrations in Tunisia and Algeria.
That same Middle East unrest, along with strong overseas economic growth, has been driving oil back up towards its historic highs. $4/gallon gasoline looks very likely again soon (writing in the latter half of February). Even before the events in Tunisia and Egypt set off the Middle East turmoil, oil prices were at 2-year highs. The price of Brent Crude had topped $100 a barrel as a result of a combination of supply problems, rising demand, and speculation by investors. That is not going to help our recovery from the Great Recession, with a study by IHS Global Economics suggesting that a 25 cent rise in gasoline prices will reduce employment by 600,000 jobs over the following 2 years. Continuing high unemployment, coupled with rising escalation, equals the marked possibility of stagflation (inflation in a stagnant economy).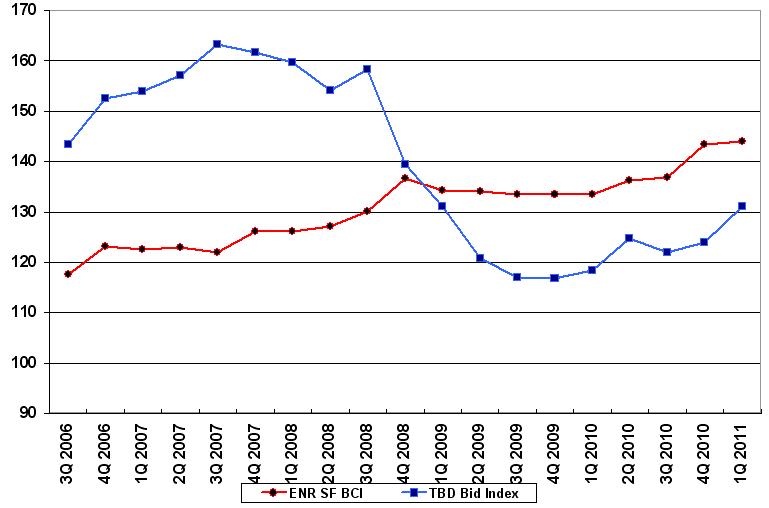 And yet escalation rates in the US have been relatively low, and the Fed has been actively encouraging it to rise. Elsewhere it has been a more serious problem. In 2010 China raised reserve requirement 6 times in order to try curbing inflation, and continues doing so this year. China has been accused of keeping its currency artificially low, which has helped keep its products prices low in the US, but as it inflates its currency we will pay more. Rising import prices give domestic companies a cover for raising their own prices, and a number of companies have announced price increases due to rising raw material prices. An increase in spending by the public is also letting companies believe they can raise prices.
So, what does this mean for the construction industry? With the construction unemployment rate at 20.7% in December, 2010, building permits not increasing, and the Architectural Billings Index showing architects' work load staying about even, there are no real signs that the market is improving. But with the national ENR Building Cost Index being up 4.3% for the year, there are real increased costs that contractors can no longer swallow. There is also the fact that some contractors and subcontractors have gone out of business, others have been taken over, and those that remain have reduced their staffing levels to a minimum, with the result that the level of competition has been substantially reduced from where it was when the recession first started biting.
While competition for straight-forward projects (such as the classroom project we use for our Bid Index) remains as competitive as ever, where a difficulty factor (such as alteration work, bad access conditions, etc.) is added, the contractors are starting to mark them up. Risk factors are not being discounted as readily as they were a year ago.
It seems we are moving back into a two-tier construction bidding market, with fierce competition remaining for the simpler, low-risk, projects, but other projects attracting fewer bidders and higher bids.