This quarter we are looking specifically at aviation, and in many ways that market is reflective of the general market, especially if we use the stock market as a gauge for the general market. Stocks have certainly had their ups and downs as they pulled up and out of the hole they sank into during the Great Recession, but the trend has been steadily upwards. Likewise, the aviation market has been doing well. Even Aer Lingus, despite the Irish economy being in the dumps, having been virtually grounded for periods in April last year by the volcanic ash from Iceland, and been affected by record-breaking severe weather during December, still managed to show a profit 0f $64 million compared to a $177 million loss the previous year. But just as the stock market seems to be stalling at the time of writing (mid May 2011), so the airline industry is warning that things are not going to be as rosy in 2011.
A major factor affecting both the aviation industry and the general market is the price of oil. In the following chart we have indexed the number of domestic enplanements and (to represent fuel costs) the cost of gasoline, and then compared them.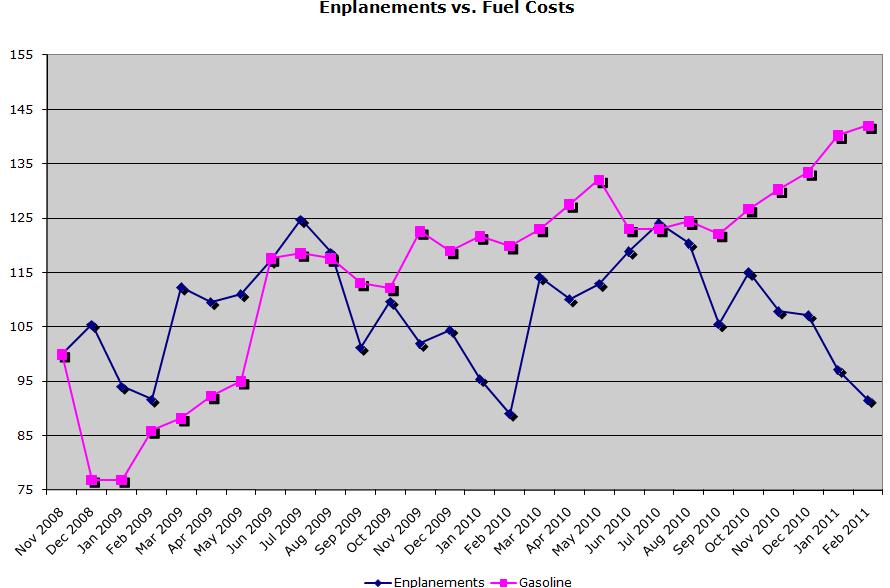 To start with, the two sequences follow similar patterns as both rise out of the recession. But getting to the more recent part of the chart we see the two deviating markedly, as fuel costs rise, leading to fuel surcharges by the airlines and a drop-off in enplanements. Rising fuel prices are also a major influence on the costs affecting construction materials and bid prices, as reflected in our Bid Index.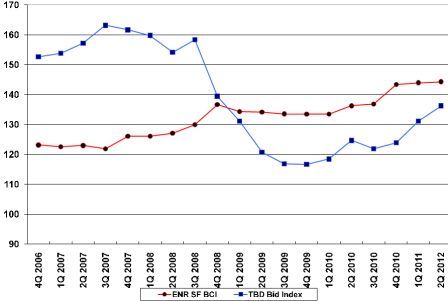 There have been a number of articles about 'new norms' in the economy and one of those norms is stated to be lower levels of employment. We have all seen articles about the 'jobless recovery', and that is expected largely to continue because companies are finding ways to do more with less. The airline industry is certainly not missing out on this trend, with the check-in procedure being almost fully automated now. Often the only time you will interact with a live person during check-in is if you have bags that need to be tagged, and you would probably be doing that yourself if regulations in the US didn't prevent it. In other parts of the world you do not need to be assisted by airline staff in checking in your baggage, and with all baggage being screened this does not really present a security risk.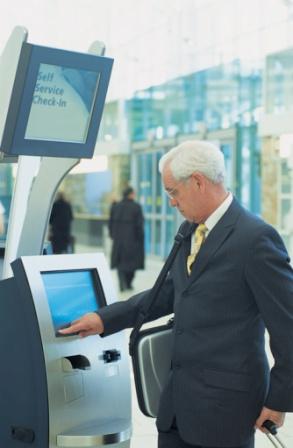 Politics has also been affecting the general market and the aviation industry. Political turmoil in the Middle East has led to a drop in air travel, as well as speculation in oil prices and fluctuations in the stock market. And new regulations regarding sustainability and green building are affecting all industries including aviation.