Towards the end of last year, our San Francisco office conducted a survey in which eight local contractors participated, and the following is a summary of the findings.
Market Sector Overview, Reflection & Future Predictions
The commercial market had strengthened in 2012 as the demand for office space resulted in increased rental rates for San Francisco and the South Bay. Tenant Improvements and New Office construction projects are also reappearing after a hiatus. Healthcare continues to be a strong market with many renovation and new build projects being planned, designed or bid out.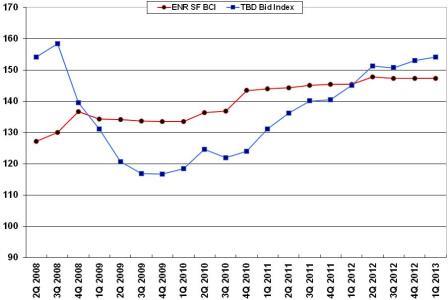 Biotech and Advanced Technology have been strong sectors and show no sign of slowing down which reflects the Bay Area's renowned resilience in these markets. Large scale projects such as the Transbay Transit Center, Central Subway and the 49ers Stadium have now really started to move forward and the bidding of associated trade packages has been encouraging for subcontractors. Despite funding problems in the education sector, it still remains an area where many GC's feel optimistic and are planning to target throughout 2013.
Other mega projects such as the Apple Headquarters, Warriors Stadium, California Pacific Medical Center and the Moscone Center Expansion are on the horizon which should mean there will be more for the industry to cheer about in the forthcoming year. However, the last four years have taught us not to take anything for granted. The housing market in the City has finally shown signs of life and looks like it will continue to be positive at least for the short term. Funding from the private sector is becoming available again based on projected growth within the Bay Area's thriving Biotech and Advanced Technology industries, among others. Many young professionals appear to be arriving in the city which has resulted in a rapid increase in residential rental rates.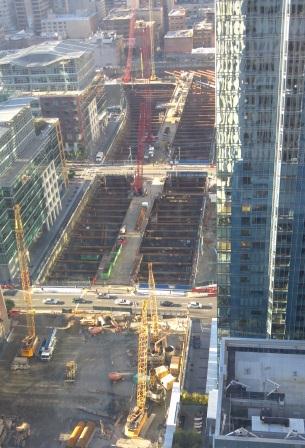 Market Competition & Bidding
Most General Contractors report they are receiving reasonable bid coverage for sub-trades and are again able to include a profit margin in their bids. It appears the days of taking work at minimal profit to maintain cash flow and keep staff occupied are ending for most of the quality contractors. All GC's reported a steady increase in pricing they received from sub trades this year. Some warning flags have been raised regarding MEP trades, where volatility and high bids have arisen, with some indicating fears over shortage of workers and qualified subs to fulfill the order books.
Public & Private Funding
In the public sector funding remains a challenge that is not likely to go away soon. Although agencies are continuing to move their projects through the planning process, the jump from paper to shovel still appears to be too long. The private sector has provided much needed work for many medium to small sized General Contractors. Traditionally buoyant Bay Area markets, including Biotech, Healthcare and Advanced Technology, will continue to provide steady growth. Property Developers who have been sitting out the recent recession have started to return to the market as they have seen vacancy rates decline.
Escalation
Generally speaking we expect labor and material escalation to move into the range of 3-5% over the next 2-4 years. On larger projects with more risk and fewer qualified bidders we would expect market forces to drive that higher as contractors and subcontractors start to take higher markups.
Delivery methods
The larger private sector projects have been trending towards CM/GC with the General Contractor coming onboard to provide preconstruction services. Other GC's considering larger public sector projects are investigating other delivery methods such as Integrated Project Delivery (IPD) and whilst many have not necessarily put that label on it, they have admitted that IPD qualities have been present in their recent delivery methods.
Other Trends
It has been reported that the MEP and Exterior Envelope trades are being considered more for the use of the Design / Build delivery method. Furthermore, some of these trades face an approaching labor shortage as a significant portion of their skilled workers near retirement age at the same time when fewer recruits are being attracted to the industry to replace them. This situation will only be exacerbated if and when the market fully turns around and they become in higher demand.