Construction Cost Trends
Brian Tolland
Construction bid prices have declined dramatically over the past 18 months, which reflects the fierce bidding war to win work, hold onto key staff, and the employment of ambitious productivity gains, along with bidding strategies that include zero profit in many cases.
Bidding prices have now (February 2010) dropped below fair market value (represented below by the ENR San Francisco Building Cost Index).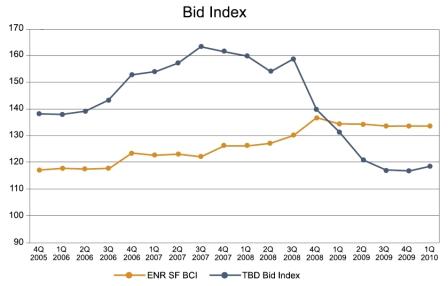 The current bidding climate for all sizes of projects is extremely competitive, not only for a General Contractor but at the sub-trade level, i.e. the number of bidders remains large and it is not unusual to receive ten or more bids for certain projects. The market continues to drag at a very low point in terms of the overhead and profit margins and we anticipate this climate to remain for most of 2010.
Further, sub-trades are bidding work "below cost" to secure work, i.e. assuming and hoping productivity economies will be found and applying a zero profit factor. This results in some very low bids and often a large range from bottom to top. The hope is that other work will come along where they will make a profit and be able to offset any losses. The sub-trades are absorbing the risk factors of escalation.
The sub-trades that have shown the largest decline in pricing are the less technical, labor intensive, trades such as finishes, drywall, steel, concrete and earthwork and the trades that have dropped the least are MEP trades. For example earthwork trades are pricing very aggressively due to this trade being comprised of mostly labor and equipment and the equipment in most cases is already paid for, enabling the subcontractors to become very aggressive with regard to bidding.
Within the residential, commercial, retail, hotel/hospitality and entertainment sectors we anticipate no growth for this year (2010) and little or none for at least some of 2011. Education, K-12 and higher would appear to show a neutral or stable market for the next year or two and healthcare is anticipated to be the market sector that has the most life and opportunity to grow.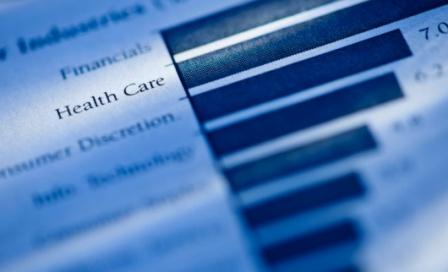 After peaking in the third quarter of 2008, overall prices for construction material fell steadily until the latter part of 2009, when the decreases began to moderate for most materials. Exceptions to the overall trend are copper and aluminum, which shot upward in the second half of 2009, conversely lumber materials has fallen more steadily and steeply than construction materials generally. Modest demand will likely keep construction material costs in check until the latter half of 2010.
Many wage agreements are already in place for 2010, and as a result it is anticipated that union labor rates will increase approximately 3%. Currently, labor unions are reporting that 12% - 38% of available tradesmen are out of work due to the economic downturn. Therefore it can be expected that when the construction industry begins to experience an upturn, any upswing will absorb the current level of unemployed tradesmen first before having any impact on inflationary labor factors due to shortage of tradesmen.
Construction professionals are suffering from the same downturn in construction volume and as a result have let go substantial numbers of staff and have had to look at introducing cost cutting measures to their operations. Competition has increased in almost every sector and professional fees are also affected, which is expected to continue through 2010 and into 2011.
One of the wild cards in 2010 is the insurance and surety markets. There is concern amongst contractors that financial problems in banking institutions may result in tightening of surety availability. How this will affect bidding and construction costs remains to be seen. Lastly, to reflect how the market has gyrated in the last 6 years, the following chart shows TBD's Bid Index yearly inflation figures: