PDF, or Portable Document Format, started out as a proprietary file format of Adobe, but they released it as an open standard in 2008 and it is now controlled by the International Organization for Standards (ISO). Being a format that is readable by multiple applications on just about every operating system for desktop computers and mobile devices, it has become the preferred way for transmitting many documents, including construction documents.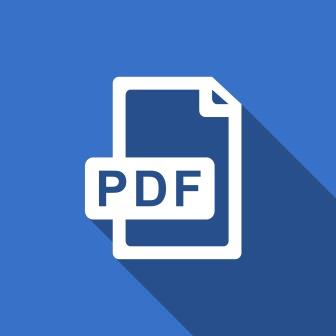 A problem has been that PDFs can be created in different ways with differing amounts of information attached to them. A PDF produced by scanning a printed document is literally 'what you see is what you get', while a PDF produced by the application used to generate the original document might contain a wealth of metadata, and be searchable. A PDF of a floor plan, for instance, might even contain hyperlinks to PDFs of the associated details and sections. The more information a PDF document contains, the more potential use it has for a contractor or someone else on the design team, and that PDF file size may be considerable smaller than that of a less-useful scanned document.
The PDF Coalition, a consortium of contractors and design professional, has come up with a set of Guidelines for Construction PDF Documents. This gives recommendations as to what might be included in PDF documents prepared for construction purposes. It doesn't mandate specific requirement, but offers suggestions that design teams can incorporate into their Project Execution Plan, as they deem appropriate. It has been said that the goal is to get 'All PDFs created equal', but they really mean all PDFs for a particular project to be created equal. However, they'd be delighted if all projects did fully adopt the guidelines.
Some of the guidelines relate to consistency of documents across disciplines, covering such things as sheet size and orientation, consistency of scales for the same level of detail, naming conventions, and consistent visibility of gridlines.
Other guidelines relate to the creation of the PDF itself, and include recommendations to create the PDF directly from the authoring application, using vector graphics and True Type fonts (which aid in making the document searchable), using efficient hatching (to keep file size down and avoid graininess when enlarging the view), and maintaining scale.
The guidelines also suggest having a lead document manager in charge of maintaining document consistency within the team, deciding early on if documents will be issued as sets or as individual sheets, and has recommendations for what metadata to include.
More information on the Construction PDF Coalition is available at www.CPCoalition.com, from where you can also download a copy of their Guidelines. And if you want to add your input into how PDF documents should be produced, and what they contain, you can sign up to join the team.