The fifth-generation cellular wireless communication system, 5G, is hitting the headlines, and it is expected to have a big influence on the construction industry. The advances that 5G brings include blazingly fast speeds (10 to 100 times faster than the current 4G LTE), much lower latencies which will reduce the need for wired connections, and it promises increased bandwidth that will let you connect as many pieces of equipment as you like (great for the Internet of Things).
We have been used to cellular networks with their cell towers, but 5G will also require smaller local cells and even dedicated in-building and home access points that connect users and wireless devices to the core network. That is because 5G uses a range of frequencies (initially around 600-700MHz, 3-4 GHz, 26-28GHz, and 38-42GHz) and it is the higher frequencies that give the higher speeds, but those frequencies won't carry far and are more easily blocked by structures. Small millimeter wave (mmWave) cells, designed for short-range connections of about 30 feet to a few hundred yards, will be grouped in regions where there are high numbers of connected devices.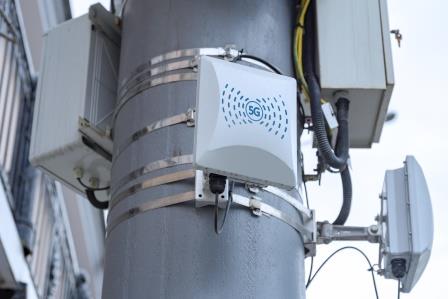 To speed access to resources even more, 'Edge' computing will be used. That involves installing 'cloudlet' servers and the like much closer to the end user, possibly in 5G base stations. In effect that moves the applications and content close to the radio transmitter at the 'edge' of the network.
5G's increased speed and reduced latency (the lag time in communication between devices and servers) makes remote operation of equipment feel like it's in real time, and the faster transfer of data to autonomous equipment (such as an excavator) will substantially improve safety. The latency on a 5G network should be around one millisecond, whereas it is around 40 milliseconds with 4G. Autonomous cars are used on roads that can be mapped once and then only need updating occasionally. Construction sites are constantly changing and have people moving supplies from place to place. Autonomous trucks and other site vehicles need to keep track of these changing conditions and 5G will facilitate the transfer of this vital information almost instantaneously. Work in confined spaces has its hazards, and the use of remote-controlled machines can improve safety here; the variety of operational wavelengths for 5G means that the control signals can reliably be sent long distances through building materials and soil. Control has been demonstrated for a machine at least 400 meters below ground, controlled from the surface.
BIM and collaborative management systems (CDEs, common data environments) are becoming standard practice, but file sizes can be large. The speed and bandwidth of 5G networks will make the sharing of data between office and site eminently practical, even with mobile devices. 5G will also help improve the quality of images that can be sent to augmented reality and VR headsets, so you can get a clearer image of what is planned or go for a virtual site inspection from your office desk.
Contractors and design professionals are already using cameras and drones to monitor and record construction progress, and the increased bandwidth will allow streaming of ultra-high-definition video. Laser imaging generates massive data files which will be so much easier to transfer. The increases in speed and bandwidth mean that a video download that might have taken seven minutes on 4G would only take about ten seconds with a 5G network. Waiting for a download to catch up should become at least as rare as a Windows' "out of memory" message.
Another of the major improvements is the number of possible connections. With 4G it is ten thousand connections per square kilometers whereas 5G promises a million, a hundred-fold improvement. This is great for the Internet of Things, because you can now have sensors, controllers, and other smart technology everywhere and not be concerned about their ability to connect wirelessly through the Internet. This should also allow improvements in the tracking of tools, equipment, and material deliveries, leading to improvements in productivity and uptime. Improved safety on site can come with the use of wearable health and safety sensors, if privacy issues can be satisfactorily resolved. All this connectivity does mean that there will be more backdoors for hackers to work through, so security must be taken seriously.
However, 5G is itself still in construction. Cellular companies will initially integrate 5G into existing 4G networks, with 4G providing the initial connections and control signals, and then 5G providing fast data. One carrier claims to have a nationwide 5G network now, but they are using the kind of lower frequency airwaves currently used by 4G, resulting in a 20% (1.2x) increase in speed, not the 10,000% (100x) improvement that a full 5G implementation should bring. But a 20% improvement is good. The infrastructure is being built and we should be seeing the full benefits by around 2025, with intermediate benefits coming available in the meantime. With the construction industry being historically slow in adopting new technology, this delay might give contractors and design teams time to prepare for the coming benefits.