Net zero has been a rallying cry for environmentalists for quite a while, and it has become a national goal for countries like the UK and France, who have both legally committed to achieving it by 2050. The State of California's Net Zero Mandate requires all new residential construction to be net zero energy (NZE) by 2020 (i.e. now) and all new commercial construction to be NZE by 2030. Other jurisdictions, including Washington, DC, and New York City, have committed to net-zero for new buildings. Then there is the architectural 2030 Challenge which targets having all new buildings, developments and major renovations become carbon-neutral.
To achieve net zero with a building entails preparing an energy budget and reducing the required energy loads by ensuring the envelope doesn't leak too much energy (except when you want to dispose of internal heat), using energy efficient equipment, utilizing solar and/or wind power, and incorporating other innovative features. The building may still have a 'carbon footprint', but that can be offset by feeding excess green energy produced on site back into the grid, or in some situations by planting trees to absorb carbon, buying carbon credits, etc.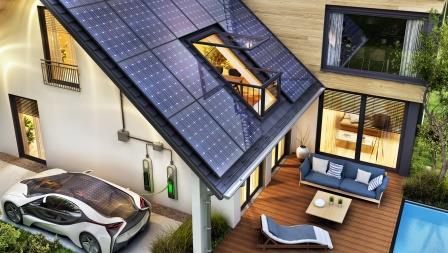 But how about eliminating the carbon footprint by stopping burning fossil-fuels as an energy source? The City of Berkeley, California, has enacted the world's first all-electric ordinance for new buildings, and other cities are following suit. Actually, other cities, such as Carlsbad in southern California, had already made moves in the same direction, but had acted through the Reach Code process. That involves a local jurisdiction, like a city or county, enacting rules that extend the California Title 24 (Building Energy Efficiency Standards) requirements and means working through the CEC (California Energy Commission). One important aspect of the reach code process is that the code must be cost effective. Berkeley enacted their legislation as a health and safety measure on the basis that gas mains are a serious fire danger in the event of earthquakes, although they have since also moved through the reach code process.
Buildings tend to be second only to vehicles in the emission of greenhouse gasses and other pollutants, and Elon Musk is doing his bit to clean up vehicle emissions. When one talks about going all-electric we cannot forget that power stations often still burn fossil fuels to produce electricity, but California already has a large proportion of its electrical supply coming from renewable resources and is mandated to have 100% of its electricity production carbon-free by 2045.
Removing natural gas from buildings will normally affect the heating and hot water systems and, especially with residential and hospitality buildings, the cooking appliances and maybe gas fires. Where heating is concerned, the obvious options include heat pumps and heat-recovery systems. The cost of such installations tend to be higher than gas ones, but you save on the cost of bringing gas supplies into the building. Induction cooking is a cost effective alternative to gas stoves, but there is a small learning curve with their use.
Berkeley's ordinance covered new single-family residences, townhomes and low-rise apartment buildings from the start of this year, but the legislation is worded so that it can be extended when the California Energy Commission has analyzed other building types as suitable for electrification. With other new buildings, the technology for going all-electric is not necessarily available at present so they are only required to be made ready for later conversion. The Berkeley ordinance does permit exemptions where all-electric systems cannot currently be modelled in the California building code compliance software. Some other jurisdictions enacting all-electric requirements are following a similar route to Berkeley, while others are implementing incentives to build that way rather than requiring it.
Gas has been an efficient and economical means of providing heating and hot water for buildings, so effort is now going into advancing all-electric alternatives that can compete economically. California Senate Bill 1477 provides funding to assist the development of such clean heating technologies.
New buildings only make up a small proportion of our towns and cities, and so far nobody is really addressing the conversion of older buildings to all-electric. But that is coming. We will probably first see financial incentives and grants for converting existing buildings, but requirements to do so will probably follow. A large part of the financial incentive will be the fact that gas prices will start to rise as a smaller and smaller number of buildings have to cover the cost of maintaining the infrastructure for delivering the gas. Gas prices are already rising, due partly to the need to upgrade aging pipelines and other infrastructure. The concern is that lower-income families in older dwelling will end up paying a high price to support the remaining infrastructure, so the search is on for cost effective ways to convert existing buildings.